By Stephanie Moulton, Caezilia Loibl and Donald Haurin (The Ohio State University)
At the November NRMLA Annual Meeting in San Francisco, Dr. Stephanie Moulton unveiled a sneak peak at the long awaited results of the Aging in Place reverse mortgage survey. The survey is one component of a multi-phase research project being conducted by researchers at The Ohio State University, in partnership with the nonprofit ClearPoint Credit Counseling Solutions, with funding from The MacArthur Foundation and the U.S. Department of Housing and Urban Development (HUD).
The study combines administrative data from households who have been counseled for reverse mortgages, HUD loan data for households who obtained HECMs, and now survey data collected on households three to nine years after receiving counseling for a reverse mortgage.
The Aging in Place Survey was administered in phases from January 2014 through July 2015. The sample population includes households who had been counseled for a reverse mortgage by ClearPoint Credit Counseling Solutions from 2006 to 2011, including (1) those who were counseled and decided not to take out a reverse mortgage; (2) those who were counseled and took out a reverse mortgage; (3) and
those who were counseled and have since terminated their reverse mortgage.
The detailed survey includes questions about consumers' experiences with reverse mortgages, as well as general questions on household financial well-being, living conditions and personal health. A complete survey report detailing responses to more than 50 questions will be released at the end of the month and covered in the March issue of Reverse Mortgage Magazine. Below is a highlight of some of
the findings.
Borrower and non-borrower status of survey respondents
Complete survey data was available for 1,761 consumers. The average survey respondent was 70 years old at the time of counseling, and about one-third of respondents were single, female-headed households. A total of 68% obtained and retained their reverse mortgage (N=1,192).
About 6% obtained a reverse mortgage, but had terminated it by the time of the survey (N=102). Reasons for termination included sale of the home, which was the most frequently provided reason for termination, refinancing it to another reverse mortgage, repaying or refinancing it with a non-reverse mortgage loan, and foreclosure. About one quarter of respondents did not obtain a reverse mortgage
after completing counseling (N=467).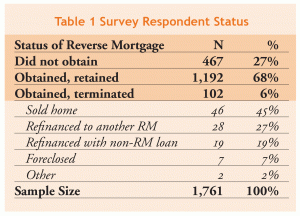 Primary reasons for seeking a reverse mortgage
The survey questionnaire provided a list of ten reasons for why an older adult might have originally considered obtaining a reverse mortgage. Most study participants selected several reasons and 15% provided another reason outside the list. The most commonly chosen reason, selected by 41%, was to gain extra income for everyday expenses (other than health needs). Second was to pay off mortgage debt (38%) and to pay of non-mortgage debt (such as credit cards, personal loans, and other debts; 25%). Other initial plans for the reverse mortgage loan were to pay for home improvements (23%), to provide financial help for family members (18%) and to postpone using other sources of retirement income (15%), and to pay for ongoing health or disability-related expenses (14%). About 10% of respondents selected reverse mortgage as a means to lock in home equity in case of declining housing prices and fewer than 10% were planning to afford a big purchase (such as a car or vacation) or to purchase a new property.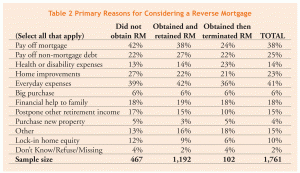 Satisfaction with different aspects of life
On the survey, consumers were asked about their satisfaction with different areas of their lives as of today—three to nine years after receiving counseling for a reverse mortgage.
On average, reverse mortgage borrowers significantly are more satisfied with particular areas of their lives than non-borrowers, including the condition of their inhabitance, their daily life and leisure activities, family life and their present financial situation.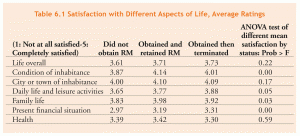 Further key findings
Reverse mortgage borrowers in this survey expressed satisfaction with their decision to obtain a reverse mortgage. On a scale from 1=very dissatisfied to 5=very satisfied, respondents who retained their reverse mortgage scored 4.2 and those who terminated their reverse mortgage




scored 4.0. Respondents who decided against obtaining a reverse mortgage scored 3.6 on this satisfaction measure.

Almost half, 47%, said that the money lasted about the amount of time they anticipated, about 21% said it lasted it lasted shorter, and 11% said it lasted longer than expected.

Study participants who decided against a reverse mortgage after the mandatory counseling session indicated three top reasons for this decision: a desire to own their home completely, free of any mortgages; the understanding that the amount of money from a reverse mortgage was too small; and finding another way to meet financial needs. Each of these three items was selected by about a third of the study respondents (32%).

Most survey participants reported being current on their property taxes. Respondents not obtaining a reverse mortgage were more than twice as likely to report being past due on property taxes—5% compared to 2% of active reverse mortgage borrowers. The average amount overdue ranged from $1,449 (active borrowers) to $4,221 (non-borrowers).