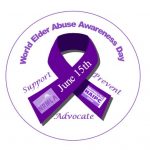 Each year an estimated 5 million, or 1 in 10, older Americans are victims of elder abuse, neglect, or exploitation.  According to the Administration for Community Living, for every case of elder abuse or neglect reported, as many as 23.5 cases go unreported.
As professionals who work closely with older adults, we have a special responsibility to recognize the signs of elder abuse, especially of financial exploitation, and provide victims with resources to find the help they need.
As part of World Elder Abuse Awareness Day (WEAAD) on June 15, the National Aging in Place Council and the National Reverse Mortgage Lenders Association hosted a free online tutorial presented by Lorraine Geraci, CPC, a veteran trainer and member of NRMLA's Education Committee.

In case you were unable to attend the tutorial or simply want to listen to it again here is a link to the recording, NRMLA and NAIPC Present: Strategies for Keeping Older Adults Safe From Financial Predators.
With real world examples, Lorraine explained the different types of financial abuse, described common scams and fraud perpetrated against seniors, helped attendees recognize the warning signs of abuse and exploitation, and also provided participants with a list of resources for reporting abuse and support for victims. 
WEAAD was launched on June 15, 2006 by the International Network for the Prevention of Elder Abuse and the World Health Organization at the United Nations. The purpose of WEAAD is to provide an opportunity for communities around the world to promote a better understanding of abuse and neglect of older persons by raising awareness of the cultural, social, economic and demographic processes affecting elder abuse and neglect. In addition, WEAAD is in support of the United Nations International Plan of Action acknowledging the significance of elder abuse as a public health and human rights issue. WEAAD serves as a call-to-action for individuals, organizations, and communities to raise awareness about elder abuse, neglect, and exploitation.
Additional Resources:
National Center on Elder Abuse-Awareness Materials
Federal Trade Commission-Pass It On Campaign
National Adult Protective Services Association
Consumer Financial Protection Bureau-Play a Part in Prevention