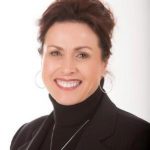 Meet Teresa Rose, Founder and President of Senior Security Funding, a division of Western Ohio Mortgage Corporation, based in Sydney, Ohio. 
Teresa started in the lending world at Miami Valley Bank as a teller. In less than 10 years, she moved up the ranks to be Assistant Vice President of Mortgage Lending. From MVB she became a Senior Mortgage Originator at Five Star Mortgage.
In 1999, Teresa realized her dream of owning a small business and fused it with her passion for mortgage lending by opening Western Ohio Mortgage Corporation. In the last 17 years, Teresa has grown WOMC from a small mortgage bank with a handful of employees to a multi-state, multi-branch corporation with over 50 employees. She also is one of 130 professionals nationwide, and the only one in Ohio, to earn the Certified Reverse Mortgage Professional Designation.
Question #1
As a business owner, what one thing are you doing differently today versus this time last year that has helped you stay competitive?
I think that really staying in tune with the industry is of utmost importance. As an owner, you not only must keep up on what is happening today, but you need to have some insight into where the business is headed. I try to have a 1 yr., 3 yr. and 5 yr. plan for all my business activity. This is not really something new for me, but since I have always tried to plan ahead, things like Financial Assessment were easier to transition to. We are a small shop and still believe that it is the personal touch that our clients receive that gets us additional referrals. We still do most of our applications face to face which is often times why clients seek us out.
Question #2
How has financial assessment altered the way you market reverse mortgages?
Honestly, the financial assessment has not changed my strategy. Coming from the forward world, I always looked at affordability of the mortgage as an issue for the customer. While many companies chose to market as a "no credit qualifying" mortgage, we have always opted to market the long-term financial benefits of the program, rather than attempting to attract borrowers who may be looking for a fix to other financial struggles. Our approach has always been, and still remains, that the reverse is not for every borrower. If we are keeping the needs of the customer at the forefront, financial assessment makes sense.
Question #3
Who is your typical borrower?
Our typical borrower still has a mortgage. We are seeing more and more of our seniors who are just wanting to retire the mortgage payment as a way to maximize cash flow. In Ohio, where we predominantly originate, we see loan amounts that average from about $100,000 to 175,000. We also see a lot of single borrowers who have lost the income of a spouse and really need the benefits that the reverse mortgage offers. Most are average Americans that do not have large savings and whose typical income is Social Security and possibly a small pension. Many do not have a large amount.