Among the topics discussed at the 18th Annual Meeting of the Retirement Research Consortium held on August 4-5 at the National Press Club in Washington, D.C., was a comparison  of equity extraction methods and their impact on the financial well-being of seniors presented by Dr. Stephanie Moulton of Ohio State University.
Highlights from Dr. Moulton's presentation, How Home Equity Extraction and Reverse Mortgages Affect the Financial Well-Being of Senior Households, include:
Unlike HELOCs, HECMs cannot be reset in future periods when home values or borrower credit quality declines. There is limited underwriting for HECMs and federal insurance bears the cost of negative equity;

Establishing a HECM may provide a buffer against financial shocks, thereby increasing liquidity and reducing default;

Seniors extracting equity through HECMs are more likely to undergo a credit shock within the two years prior to extraction. These consumers appear to have the most improvement in credit outcomes after extraction;

Risk of foreclosure increases for cash-out and second lien borrowers. HELOC and HECM borrowers are less likely to experience foreclosure (relative to non-extractors) post extraction. The risk of foreclosure increases for HELOC borrowers who extract more funds up front.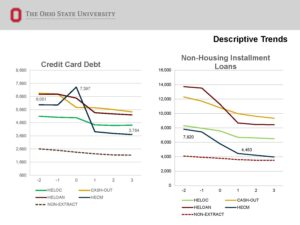 HECM borrowers showed a spike in credit card balances prior to origination of the HECM, and then a sharp decline in credit card balances that persists thereafter. This is a unique pattern not observed for other extraction channels. It may indicate a need for liquidity that is met with credit cards in the short term, and then substituted with home equity borrowing through a HECM. To the extent that HECM borrowing is lower cost than credit card borrowing, it could lead to improved financial well-being.
The Annual Meeting of the Retirement Research Consortium was organized by the University of Michigan Retirement Research, Center for Retirement Research at Boston College and National Bureau of Economic Research at the University of Illinois, with financial support from the Social Security Administration. NRMLA staff attend this conference every year, including last week. This was the first time that reverse mortgages were discussed.