The financial planning industry is adapting to longer life spans and retirements, but not as quickly or aggressively as it should, according to a survey of 348 advisors conducted by InvestmentNews.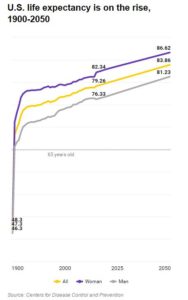 "I think there are going to be an awful lot of people whose lifestyle is going to be dramatically impacted," Harold Evensky, Chairman of the planning firm Evensky & Katz, told InvestmentNews contributor Elizabeth MacBride in her article, The Longevity Paradox.
According to survey results, financial advisers use an average lifespan of 91 for men and 94 for women when structuring retirement plans. While those numbers are appropriate for today, researchers agree that a "longevity boost" – possibly caused by better cancer detection methods and healthier habits – will occur, they are just not sure when, or from where, or which group of people it will affect most.
In the meantime, financial advisors are telling clients to save more and work longer. The InvestmentNews survey found that 65% of advisers are telling clients to delay claiming Social Security benefits, while 54% recommend lower withdrawal rates as a way of dealing with longer lifespans.
MacBride says some children may expect an inheritance in the form of the family home. But as reverse mortgages and home equity loans become more popular, especially to finance unexpected health care costs, those real estate windfalls are likely to decline in number.
For a comprehensive look at the impact of longevity, join us at NRMLA's Annual Meeting & Expo where gerontologist Kathryn Lawler of the Atlanta Regional Commission presents her research.