Housing wealth continues to grow for U.S. homeowners aged 62 and older, providing seniors with added financial security in their retirement years. That's according to the National Reverse Mortgage Lenders Association, who reported this week that the aggregate value of senior home equity reached $5.9 trillion in the second quarter of 2016, a gain that propelled the NRMLA/RiskSpan Reverse Mortgage Market Index to a new peak of 212.45 from 207.60 in Q1 and an 8.7 percent year-over-year increase.
First published in Q1 2000, when senior home equity totaled $2.38 trillion, the RMMI was benchmarked at 85.47. The index initially peaked at 182.26 in Q1 2006 before declining through Q1 2009, when senior home equity dropped to a trough of $3.48 trillion and the index fell to 125.08.
Since that time, the housing recovery and growing population of senior homeowners have contributed to an upward trajectory for the RMMI. In Q2 2016, senior home values reached $7.4 trillion while senior-held mortgage debt increased by $10.75 billion to $1.48 trillion. Get more details at NRMLAonline.org.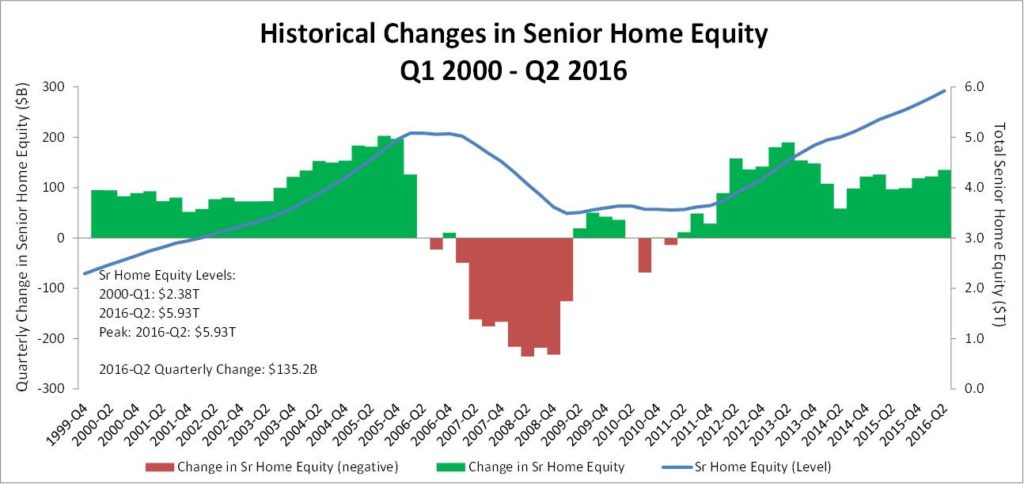 Prepared by RiskSpan, Inc.
Data sources: American Community Survey, Census, FHFA, Federal Reserve