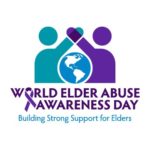 Next Thursday, June 15, communities throughout the United States, and across the globe, will observe World Elder Abuse Awareness Day.
This year's theme will be "Understand and End Financial Abuse of Older People: A Human Rights Issue."
Started by the International Network for the Prevention of Elder Abuse and the World Health Organization at the United Nations, World Elder Abuse Awareness Day brings together elders and their caregivers, national and local governments, academics and the private sector to exchange ideas about how best to reduce elder abuse, increase reporting of such abuse and develop elder-friendly policies. Each year, an estimated five million, or one in ten, older Americans are victims of elder abuse, neglect or exploitation. Financial abuse costs older Americans more than $2.6 billion dollars annually.
As professionals who work with, and advocate for, older adults, we encourage you to access the latest World Elder Abuse Awareness Day campaign materials available from the USC Center on Elder Mistreatment  and participate in any events taking place near you. We also invite you to visit the Combating Elder Abuse section of NRMLAonline.org.