Thanks to advances in health and longevity, 50 million households—one out of every three—will be headed by older adults by 2035, including 16 million households headed by those over age 80, according to the annual State of the Nation's Housing report published by Harvard's Joint Center for Housing Studies.
"The magnitude of growth in older households will place new demands on the housing stock," the authors wrote. "Millions of homeowners will face the challenge of keeping their homes safe and accessible as they age. However, many may not have the resources to retrofit their homes with universal design features such as single-floor living and extra-wide doorways."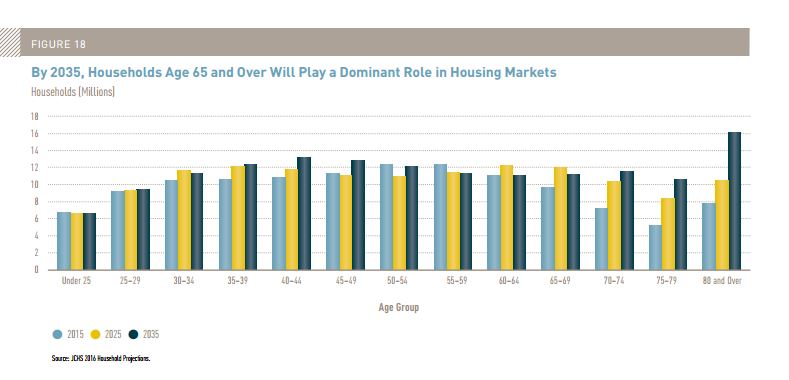 In addition to living longer, adults are increasingly likely to live independently into old age. The share of individuals age 75 and over living in nursing care facilities dropped from 10.2 percent in 1990 to 4.9 percent in 2015. As a result, there will be a growing need to improve the accessibility of the housing stock and to deliver in-home supportive services.
Daniel McCue, Senior Research Associate at the Joint Center for Housing Studies, published a follow-up article, Wait… What? Ten Surprising Findings from the 2017 State of the Nation's Housing Report, in which he highlighted that in 2016 home prices rose in 97 of 100 metros, and 41 metros had regained their nominal peak price levels from the mid-2000s. However, he noted that price gains were felt primarily in coastal areas, while prices in 16 of the top 100 metros located in the Midwest and South were below 2000 levels, after adjusting for inflation.
Another report published in April by the Joint Center for Housing Studies, Demographic Change and the Remodeling Outlook, forecasted that the baby boom generation will be a key driver of the remodeling market in the coming years as they make accessibility improvements and home modifications to allow for aging in place.