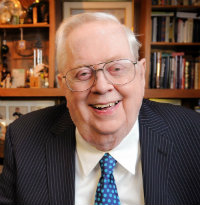 James B. Nutter, Sr., a prominent business and civic leader in Kansas City, Missouri, who founded and operated one of the nation's largest family-owned mortgage companies that one day would originate the first Home Equity Conversion Mortgage, died this week. He was 89.
After earning a business degree from the University of Missouri in 1949, and serving 1½ years in the U.S. Army, Mr. Nutter started James B. Nutter & Company in 1951 out of his home.
In 1989, J.B. Nutter participated in a national lottery held by the Federal Housing Administration and was one of 50 lenders from 267 applicants to participate in a reverse mortgage demonstration program. The company was credited with making the first HECM to 79-year old Marjorie Mason of Fairway, Kansas on October 19, 1989. 
Since then, the company has originated or acquired over 35,000 reverse mortgages and currently services a portfolio of 20,000 loans.
"My father left an incredible legacy in the mortgage banking business," Jim Nutter, Jr, President and CEO, told Weekly Report. "He obtained his FHA approval over 60 years ago and believed passionately in helping people from all walks of life enjoy the benefits of homeownership.  He was extremely proud to have originated the first HECM loan in 1989 because he believed the HECM program made a positive impact in the lives of our seniors by helping them enjoy the home where they made all their memories."  
As a tribute to Mr. Nutter's legacy, the Kansas City Star republished a profile from 2012, entitled Mr. Mortgage: A behind-the-scenes view of mortgage and political titan James B. Nutter.