A new advertorial from NRMLA, "Today's Reverse Mortgages: Flexible, With a Lot of Built-in Protection" will appear in the October 2017 issue of Kiplinger's Personal Finance magazine, a publication that reaches nearly 1.7 million readers including 600,000 subscribers.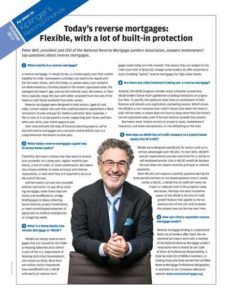 In the article, NRMLA President and CEO Peter Bell responds to six questions that consumers commonly ask NRMLA when considering a reverse mortgage, including reverse mortgage basics, risks and finding a reputable lender. A PDF of the Q&A (As Seen in Kiplinger's Personal Finance), is available on NRMLA's websites for members to download and share widely.
In addition to the FAQ, Kiplinger's Associate Editor Patricia Mertz Esswein wrote a comprehensive article on reverse mortgages, titled "Use Your Home to Get Mortgage Income," that features an interview with Bill and Maureen Deller of Marana, Arizona, who established a $172,000 reverse mortgage line of credit in mid-2017. "We don't really need the reverse mortgage financially," says Bill, "but it makes us feel comfortable that if we need it, we've got it."  Esswein explains payment plan options, costs, shopping for lenders and end of loan issues.
The hard copy version of Kiplinger's Personal Finance will be hitting newsstands shortly and available online in September.