NRMLA servicing experts offer the following guidance for homeowners impacted by hurricanes Harvey and Irma:
Contact your insurance company right away to file a claim if damage has occurred to your home;
After that, contact your loan servicer to inform them if damage has occurred to your home; and
Depending on the severity of the damage, and the amount of funds issued by your insurance company, it may be necessary for the servicer to hold the insurance funds, monitor the progress of the repairs, and disburse out to the contractor (similar to a repair set aside) after an inspection has been completed on the home.
If you had damage and need to move out of your property, update your contact information with your servicer and provide an alternate contact in the event that your servicer has difficulty reaching you.
If you had no damage, but you are going to be away from your home for a prolonged period of time, let your servicer know.
On August 28, the Department of Housing and Urban Development provided disaster relief for Hurricane Harvey victims and on September 13, provided relief to those impacted by Irma. The relief includes  a 90-day moratorium on foreclosures of FHA-insured mortgages. HUD also reminds housing counseling agencies impacted by the storm to notify the Department within 15 days if they cannot comply with programmatic requirements and regulations, and encouraged them to review the Housing Counseling Disaster Recovery and Emergency Preparedness Toolkit located on HUDExchange.
This information is also posted on NRMLA's consumer education website at: http://www.reversemortgage.org/DisasterResources
Consumer Links:
From HUD
Disaster Relief Options for FHA Homeowners
From the HOPE Now Alliance
Consumer Resources

Free Mortgage Assistance Events to be Held in Houston
September 26th – 28th at Humble Civic Center
October 3rd – 5th at the Chinese Community Center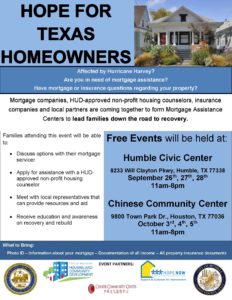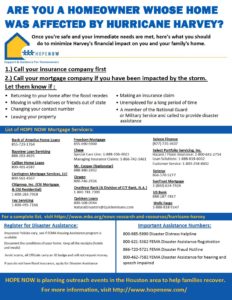 If you are having difficulty contacting your mortgage servicer, contact the Homeowner's HOPE Hotline at 1-888-995-HOPE (4673) for assistance and FREE confidential support from a HUD-approved housing counselor.