The HOPE NOW alliance coordinated a series of six free mortgage assistance events in Houston from late September through early October. More than twenty-three mortgage servicing companies participated in events, including several reverse mortgage servicers, to provide their hurricane-impacted borrowers with guidance and information. NRMLA promoted the events to Houston media, liaised with the Harris County Agency on Aging to distribute resources for older homeowners in attendance, and provided on-site support at the Chinese Community Center. More than 100 reverse mortgage borrowers were served at the events.
NRMLA's Director of Public Relations Jenny Werwa joined HOPE NOW Executive Director Eric Selk in Houston for an early morning news interview with KHOU-CBS to promote the free events. Reporter Sherry Williams asked if people who come to the event will leave with a stack of papers or with a resolution. Selk responded, "They'll leave with peace of mind." Watch the news broadcast and Facebook Live segment on the KHOU website.
How true that was for the hundreds who visited the centers where homeowners, and in some cases entire households, were welcomed by volunteers offering water, snacks, and tote bags with information about disaster assistance. After checking in at a makeshift reception area, borrowers could meet with representatives from FEMA, HUD, SBA, VA, or a housing counselor before sitting down with a mortgage or insurance company representative.
Companies were assigned table space in the large gymnasium and equipped with internet access and printers to serve as remote offices. Reverse mortgage servicers could pull up their borrower's account information and work through important questions that were occasionally unrelated to the storm. One woman, a non-borrowing spouse whose husband passed away several years ago, was concerned about a tolling agreement and what impact it could have on her ability to stay in her home. She came into the Chinese Community Center not feeling "too keen" on her reverse mortgage, but after meeting with RMS, she was smiling and pleased she could speak with someone in person.
They came with questions and left with peace of mind
Here are three additional stories of reverse mortgage borrowers who visited a HOPE NOW mortgage assistance center in Houston.
The Greggs walked into the gymnasium-turned-mortgage assistance center around 10:45 in the morning, 15 minutes before the official start time of the free event and a half hour before their scheduled appointment with Champion. They were eager to meet with representatives from their reverse mortgage company, prepared to discuss the insurance claim filing process, and ready to put the impact of Hurricane Harvey far behind them. For a home built in the 1950s, damaged not by the storm itself, but by the controlled release of millions of gallons of water from the nearby reservoirs, it was unclear what type of insurance would cover their losses and needed repairs. They were relieved to meet in-person with a company representative and discuss their occupancy requirements while the home is being either repaired or on the market for sale.
Ms. Miller has been staying with a good friend in town while waiting for her townhouse to be livable again. The first floor flooded, damaging the floors and kitchen appliances, but most everything else is sitting dry on the second floor. She has come to the Chinese Community Center event to have an insurance check endorsed by her reverse mortgage company, but there's some confusion about which company owns her loan and should be endorsing the check. She has already spent $2,000 from her savings to pay for remediation and repair, but doesn't want to dip any further into that pot if she can help it. She is very happy with her reverse mortgage, and even happier after leaving the event where representatives from Wells Fargo and Champion were both on-site to resolve the matter.
At the RMS table, a man meets with the team to discuss his mother-in-law's options after her home has been impacted by the controlled flooding from the reservoir. It's mostly sheet rock damage and he thinks it can be repaired in two to four weeks, but he wants to clarify with RMS that she'll be returning to the home as soon it is safe again. He is an attorney who learned about reverse mortgages in the 1990s and encouraged his parents to take one on their Connecticut home. It was a way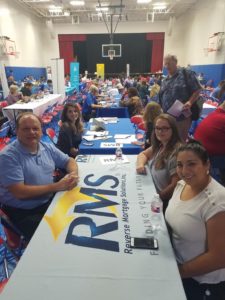 for them to get rid of old debts and remain financially independent from their grown kids. About six years ago when his mother-in-law faced mounting credit card bills, he helped her look for a reverse mortgage that would meet her needs. As a financial manager he recommends incorporating home equity into retirement funding plans when appropriate.