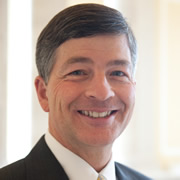 Rep. Jeb Hensarling (R-TX), chairman of the House Financial Services Committee since 2013, announced this week that he will not seek re-election in 2018.
"Although service in Congress remains the greatest privilege of my life, I never intended to make it a lifetime commitment, and I have already stayed far longer than I had originally planned," Rep. Hensarling wrote in a message to his supporters.
In his first year as Chairman of the Financial Services Committee, Congressman, Hensarling introduced the Protecting American Taxpayers and Homeowners Act (PATH Act). A comprehensive housing finance reform bill, the PATH Act would have eliminated Fannie Mae and Freddie Mac, narrowed FHA's mission and eliminated the Home Equity Conversion Mortgage (HECM) program. The Financial Services Committee narrowly approved the bill on a 30-27 vote, but it never came up for a vote by the full House of Representatives.
More recently, Congressman Hensarling has been a driving force behind the Financial CHOICE Act, the Republican-crafted effort to replace the Dodd-Frank Wall Street Reform Act and a key player in the ongoing negotiations to reform the American tax code.