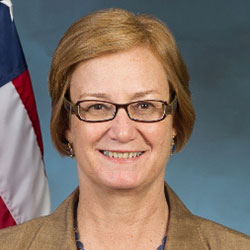 Public policy experts debated proposals to strengthen FHA for the future needs of U.S. housing at an event hosted by the Urban Institute in Washington, DC, on Tuesday. Carol Galante, an FHA Commissioner during the Obama Administration, presented strategies to sustain the government's support of underserved populations while also continuing to serve a broad spectrum of lower-wealth homebuyers.
To improve the accounting of the FHA's programs, she recommended establishing a new capital reserve standard and also removing the Home Equity Conversion Mortgage program from the Mutual Mortgage Insurance Fund. 
"There has been a lot of discussion about the HECM portfolio and how that is accounted for," said Galante, who ran FHA from 2011 to 2014. "It is such a different business [compared to FHA's forward mortgage program]. It really obfuscates for better and for worse what's going on in each of the funds. I recommend that we separate those capital reserve accounts and look at them separately and judge them separately."  
Galante's comments echo an Urban Institute report published in December that advocated separating HECM from the MMI fund, and a statement issued in November by NRMLA President and CEO Peter Bell supporting further study of the issue.
Ed Golding, who led FHA during President Obama's second term, and Adolfo Marzol, a senior adviser for housing in the Office of the Secretary at HUD, also spoke at the Urban Institute event and responded to Galante's HECM recommendations as part of a roundtable discussion.
Marzol commented that because recent changes to the HECM program won't correct the perceived flaws with older books of business, HUD is working with industry and advisors to improve the long-term health of the program. Golding expressed optimism that by next year, the actuarial review will show a much lower rate of delinquencies on books made four years ago after new policies went into effect. "For many people, it's such an important program to age in place," he said of HECM. "So it's that balancing of mission and a very difficult program to risk."
Galante commented on the critical role of FHA serving first-time homebuyers and minority borrowers, citing a 2017 statistic showing that 37.7 percent of all minority borrowers using a mortgage to purchase a home did so with a mortgage backed by FHA.
To ensure that FHA continues helping underserved borrowers, Galante proposed that FHA's maximum loan limit be set at 100 percent of the median house price for a particular geographic region rather than the current 115 percent. She also advocated using smaller population-based geographic sub-regions (e.g. zip codes and census tracks) to better ensure that FHA's loan limits conform to actual market values in a given area.
In a separate presentation, Laurie Goodman, co-director of the Urban Institute's Housing Finance Policy Center, noted that 82.4 percent of FHA loans made in 2017 were originated by non-banks, up from 38 percent in 2013. "At some point, we worry about the large non-bank share because it makes the government market more pro-cyclical, expanding when times are good and contracting when they are not," said Goodman. "It also makes FHA lender oversight much more challenging."
Goodman proposed two strategies for strengthening FHA and bolstering bank involvement in the market: 1) removing uncertainty created by the False Claims Act and fully implementing FHA's defect taxonomy quality assessment methodology and 2) reducing the costs and complexity of servicing troubled loans. 
Download the presentation slides from the Urban Institute's website.