A new policy paper authored by Brookings Institute senior fellow Louise Sheiner, titled The Long-Term Impact of Aging on the Federal Budget, examines the effects of an aging population on federal spending on entitlement programs and the implications for the country's overall debt burden, interest rates and productivity.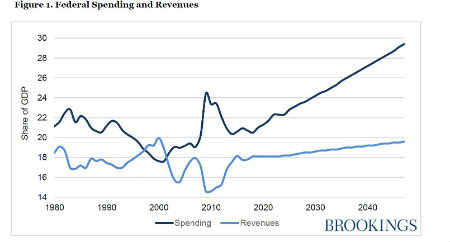 In just 20 years, Americans age 65 and older will account for 21 percent of the U.S. population. These demographic changes have aroused considerable concern about the country's fiscal future, as much of the federal budget is allocated to old-age entitlement programs, like Social Security and Medicare. And with federal spending growth projected to significantly outpace revenue, it's a concern that policymakers should begin to consider, wrote Sheiner.
She argued that it is difficult to find policies to lighten the future burden of aging on the federal budget. Increases in labor force participation can help, but without concomitant cuts in benefits, they are not likely to make a large dent.
"Furthermore, changes to entitlements are often best made years in advance in order to give people time to adjust their spending and work decisions," commented Sheiner. "Thus, a reasonable policy is to begin to make small adjustments to spending and taxes and to start planning the kinds of changes we will want to make in the future."