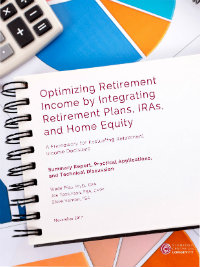 Reverse mortgages should be one of the tools that retirees and their financial advisers consider on a case-by-case basis when evaluating options for improving retirement security, according to a new study published by the Stanford Center on Longevity, in coordination with the Society of Actuaries, titled Optimizing Retirement Income by Integrating Retirement Plans, IRAs, and Home Equity: A Framework for Evaluating Retirement Income Decisions.
It will be critical for many older middle-income American workers to effectively deploy all their retirement resources that have significant value, including accounts in defined contribution retirement plans, IRAs, and home equity, wrote the study's authors, which include Wade Pfau, professor of retirement income at The American College of Financial Services and author of Reverse Mortgages: How to Use Reverse Mortgages to Secure Your Retirement; Steve Vernon, retirement scholar at the Center for Longevity and MarketWatch retirement columnist; and actuary and certified financial planner Joe Tomlinson, who served as a vice president at John Hancock Financial Services for 27 years.
"Our analyses demonstrate that reverse mortgages can have legitimate uses in retirement planning," they commented. "Specifically, reverse mortgages can be used to:
Increase monthly income in predictable ways through a monthly tenure payment,

Increase accessible wealth in predictable ways, to be used for unforeseen emergencies or long-term care expenses, or

Reduce downside volatility and the chances that total income will fall below specified thresholds.
A reverse mortgage is most appropriate, the authors added, when retirees intend to stay in their house for an extended period, perhaps for the rest of their lives. "They also need to understand the costs of reverse mortgages, which can be considerable, so they can decide if the costs justify the benefits."