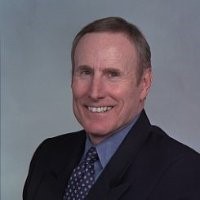 We are deeply saddened by the passing of Jeff Taylor, NRMLA's founding chairman, a visionary executive who foresaw the potential of reverse mortgages and served as an important advocate and leader in building the HECM program and the industry that serves it. Jeff passed away yesterday, surrounded by his immediate family, after a heroic battle with an aggressive cancer that spanned several years.
Jeff was a very sociable and gregarious individual and a great storyteller, so we know a bit about him. He grew up in Canton, Ohio, served four years in the U.S. Air Force, got married to his wife, Jo, and worked his way through six years of college as a canine police officer in Lincoln, NE. Jeff graduated college with a degree in education, but ended up in banking, where there was an underlying philosophy back then that if you could teach, you could sell.
I have a great memory of seeing Jeff's ability to teach and sell from a trip he and I made to the Veteran's Administration in NRMLA's earlier days to explore the possibility of creating a VA-guaranteed reverse mortgage program. With the two of us facing a table full of stone-faced bureaucrats, Jeff opened the conversation by telling them, "I love you guys. I got my education because of what you do. I bought my first house with your help. I know I have access to good health care because of what you do…" Within a few minutes, Jeff had them all actively engaged and eager to carry on a conversation they were reluctant to initially have.
Jeff's first job out of college was driving around rural Nebraska, with pregnant Jo by his side, selling the brand new BankAmericard credit card to small, local banks. After that, he became a sales representative for Mortgage Guaranty Insurance Corporation (MGIC), promoting the concept of mortgage insurance to banks, credit unions, savings and loans and mortgage companies. He moved on to a large Houston-based mortgage company where he learned the secondary market side of the business.
Then, in 1986, Jeff started Wendover Funding and in 1988, HUD announced a reverse mortgage demonstration program and selected, via a lottery, 50 lenders to each make 50 HECM loans. Jeff, being visionary, said to his colleague, Ken Austin, "somebody needs to learn how to service these loans," and that they did.
Back in those days, there were no loan origination systems, no on-line calculators. The most sophisticated technology was DOS-based computers. In any case, Jeff and his colleagues came to a meeting in Washington that HUD convened with all the lenders in the HECM demo and told them, "we will sub-service your loans for you." Thus began Jeff's reverse mortgage career.
In the then fledgling reverse mortgage business, Jeff became a chief warrior for the cause, traveling anywhere, anytime, to teach policymakers, lenders, investors, seniors and anyone interested, about the utility and beneficial aspects of reverse mortgages. His great ability to teach and sell were an important asset for this industry in its earliest years.
In 1996, after experiencing some frustration in getting federal policymakers to make programmatic changes that would help consumers and lenders embrace the HECM program, Jeff decided that the reverse mortgage business needed an advocacy network in Washington. After attempts to engage the Mortgage Bankers Association proved unsuccessful, Jeff determined that reverse mortgage lenders needed their own organization.
He and I were both serving on Fannie Mae's Housing Impact Advisory Council back then and Jeff grabbed me at breakfast one morning to ask what it takes to start a trade association. That led to a series of conversations with just Jeff, at first, and soon we were joined by Pat McEnerney (then with BNY Mortgage).
The three of us agreed to convene a meeting in Washington and invited Jim Mahoney, Joe Morris, Jeff Birdsell and several other chief executives from companies participating in the HECM program to discuss the viability of creating an association. Jeff had given me a list of CEOs to invite, many he had not yet met, but already recognized as industry leaders. Nevertheless, a group of 20 came together, and with Jeff's enthusiastic teaching and salesmanship leading the way, agreed to all chip in and create NRMLA.
In the years that followed, Wendover Funding was sold to a major corporate entity and Jeff went on to become a consultant to Wells Fargo and leader of its reverse mortgage team, which he built into the largest HECM production channel in the country at the time. Jeff eventually retired from his role at Wells Fargo, but unable to simply sit back and enjoy his retirement, began consulting for several companies in our field and joined a few boards.
I think it is accurate to state that if not for Jeff Taylor, there would not be the reverse mortgage industry as we know it today. Many older homeowners would not have had the opportunities to live better lives as a result of being able to tap their home equity through a HECM. There would not be a NRMLA. Many of us in the reverse mortgage business would not have enjoyed the interesting career opportunities we've had if not for the trail blazed by Jeff.
We will miss him deeply.
Jeff is survived by his wife of 53-years, Jo (Trauernicht) Taylor, his sister, Lynne Taylor, daughters and sons-in-law Tonya and Brien Brandenburg and Tricia and Pete Bouras, and granddaughters Taylor and Riley Bouras and Annalyse and Raelynne Brandenburg.
There will be no funeral for Jeff. The family has requested that expressions of sympathy be in the form of contributions to your favorite charity.
Peter Bell
President & CEO