A new retirement preparedness study from Prudential, titled Planning Your Retirement? Expect the Unexpected, concluded that 51 percent of retirees left the workforce earlier than planned.
While early retirement may seem like welcome news, only 23 percent said they did so because they either had enough money to retire, wanted to retire, or were tired of working. Forty-six percent of respondents who retired earlier than expected did so due to health problems, 30 percent were laid off from their jobs or offered an early retirement incentive package, and 11 percent left work to take care of a loved one.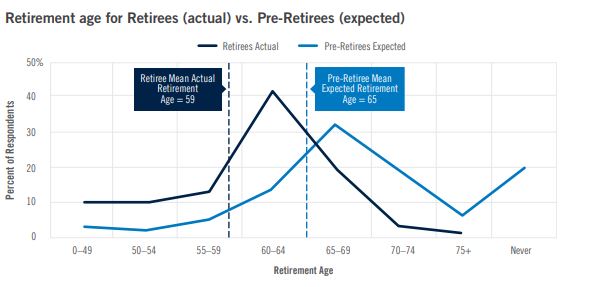 "So, the vast majority of individuals who retired earlier than planned did so in response to factors that were partially or fully out of their control," the report noted.
Not only did retirement occur earlier than planned for many, but the gap between average actual and expected retirement ages was significant. Of those who retired earlier than planned, half (50%) retired five or more years early. This is especially important because the last several years of individuals' careers are generally considered to be among their top earning years, and provide an opportunity to boost the formulas that may drive retirement income levels from Social Security benefits and defined benefit pension income, if any.
The Retirement Preparedness Study was conducted using an online survey among 1,568 adults (including 438 retirees).