To many in the reverse mortgage industry, strategic outreach to non-industry professionals who work with older homeowners is as integral to their success as meeting directly with seniors. Business-to-business engagement can lead to mutually beneficial arrangements in service to consumers, but companies must be aware of the rules in order for these relationships to be compliant. 
To help reverse mortgage industry professionals understand the legal considerations of new business development, NRMLA invited three national experts to address this topic during a panel discussion at its 2018 Eastern Regional Meeting in New York.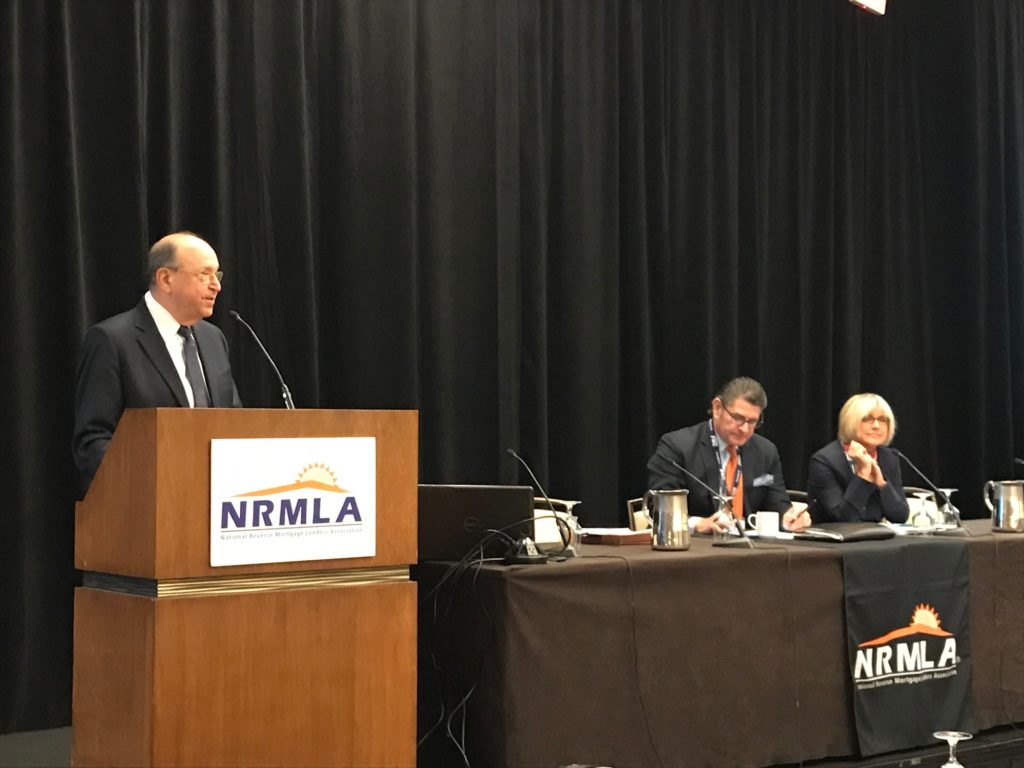 Attorney Jim Milano of the firm Weiner Brodsky Kider, PC, who serves as NRMLA's outside co-general counsel along with his partner and panel moderator Jim Brodsky, emphasized the distinction between educating other professionals and compensating them. "There's been a great deal of discussion over the years of how reverse mortgage companies and originators can better partner with other financial professionals in order to create additional channels or more sources for reverse mortgages," said Milano. Companies and originators need to be mindful of the mortgage banking and brokering regulatory requirements that are triggered when conversations with outside professionals move from education to compensation structures.
There are clear constraints on the types of relationships reverse mortgage companies can formalize with outside professionals, including insurance agents and individuals who sell certain financial products, but ambiguity remains for compliant engagement with some financial service professionals depending on their employment arrangements.
Shelley Giordano, founder and chair of the Funding Longevity Taskforce, discussed obstacles to working with financial advisors from the advisor's perspective. Starting with an overall lack of interest in learning about strategies that incorporate housing wealth into financial planning, some broker dealers are following outdated guidance from Financial Industry Regulatory Authority (FINRA) or are generally averse to any activity that might trigger oversight by regulators. Giordano noted that, "Until they get to a point where they decide that it's riskier not to discuss housing wealth, because of all of the research out there, they probably are going to be clinging to the idea that this is more risk than they are willing to take on."
One major firm, for example, will soon be issuing policies allowing their planners to have conversations about HECM reverse mortgages with their clients. And, recent news of Mutual of Omaha's acquisition of reverse mortgage lender Synergy One is a positive indicator that other industries serving seniors are recognizing the value of being able to educate consumers about the possibility of using housing wealth in retirement.
This business development shows that there are pathways for ethical arrangements between industries, and while we do not have an exact playbook regulating these relationships, some guidance does exist. Brodsky pointed to NRMLA's Ethics Advisory 2009-01, which provides an ethical framework for NRMLA members to establish safeguards while helping seniors consider, when and where appropriate, financial and insurance products in addition to reverse mortgages.
"There are LOs out there who are having a fine career based on referrals from other professionals. The idea is that you're going to get the door slammed in your face a lot, but your activities matter. The little progress that we've made here happened because of the work that we're all doing collectively. There's no way to get around the fact that 65 percent of American's net worth, of retired people, is tied up in their homes….in order for them to be able to protect their assets moving into a 30- or 40-year retirement, there needs to be at least a conversation about their housing wealth. So keep it up," said Giordano.