RMF remains atop the leaderboard after the first six months of 2018, issuing $2.26 billion of HMBS securities for a 39.6% market share, more than double #2 AAG's $1.05 billion and 18.5% market share.
RMF's totals include highly seasoned pools, issued throughout the half. FAR stays in third with $767 million issued and 13.4% market share. Ocwen Loan Servicing and Live Well Financial again round out the top five issuers. Ocwen issued $500 million for an 8.7% market share, and Live Well was fifth with $357 million issued for a 6.3% market share. The top five issuers accounted for 86% of all issuance, the same as last quarter. There were 15 active HMBS issuers in the half.
The first half of 2018 saw $5.71 billion of HMBS issued, on track to beat 2010's record year of $10.7 billion, thanks to the previously mentioned highly seasoned HMBS issuance. But, unless that becomes the norm, expect lower volume for the second half of 2018 due to the new PLF curves in effect since October. As we have noted previously, tail issuance will provide some profit stability to HMBS issuers to offset this slowdown. HMBS issuance volume for the first half of 2017 totaled $4.65 billion.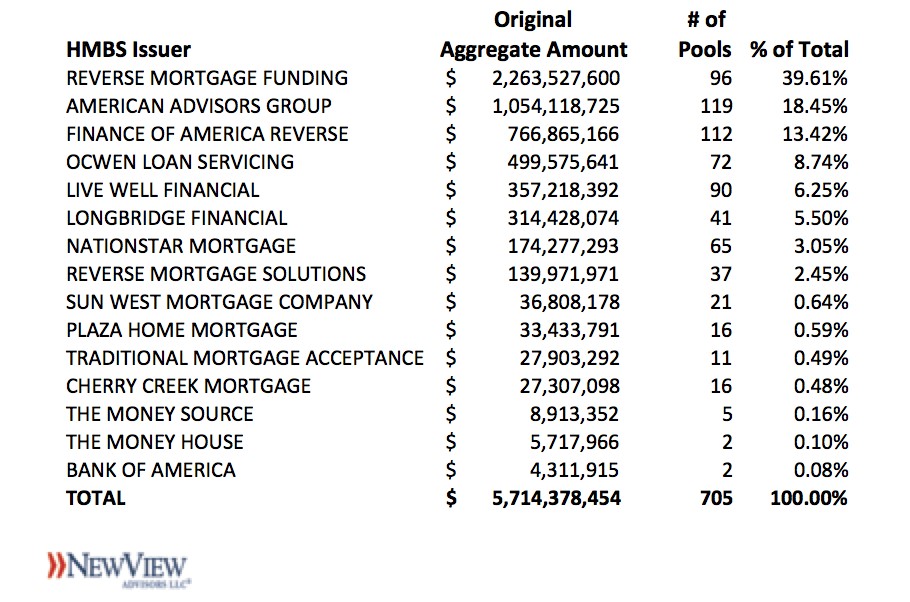 (Editor's note: This article was published with permission from New View Advisors, which compiled this data from publicly available Ginnie Mae data as well as private sources.)