Take These Steps to Comply With California's Consumer Privacy Act
Although California's Consumer Privacy Act, the most comprehensive consumer privacy law ever passed in the United States, doesn't become effective until January 1, 2020, legal experts Sanford Shatz of McGlinchey Stafford and Genevieve Walser-Jolly of Severson & Werson advised NRMLA West attendees to start preparing now by taking these steps:
Identify categories of personal information collected, stored, used, shared or sold;

Identify specific personal information collected;

Determine the use of personal information;

Prepare disclosures for consumers;

Develop a privacy notice;
Create a California-specific web page that provides:

a dedicated toll-free number,

a disclosure of consumer rights, and

a link to opt-out of sale of personal information;
Purge personal information you no longer need;

Update privacy policies and customer service tools; and

Test, verify, train employees, and monitor.
FHA's Dr. Joshua Miller Vows Rigorous Analysis of HECM
In his first public appearance at a NRMLA event, FHA senior advisor and economist Dr. Joshua Miller said "rigorous analysis" will be necessary to adequately monitor and measure the impact that home prices, interest rates and policies, such as collateral risk assessment, are having on HECM program performance. 
"One of the goals in stepping into this new position is to ensure that this rigorous analysis is done," said Miller, who ended his speech by stating that he was optimistic that he could "move the needle in the right direction" when it comes to improving HECM performance.
Seniors' Debt and Spending Patterns
Economist Eddie Seiler, PhD, gave a detailed report on the state of the U.S. economy and debt and spending patterns among aging Americans. Highlights:
Real GDP growth is expected to remain strong in 2019 at 2.7 percent. However, there are warning signs that economic tides are changing—including the inversion of the yield curve that occurred just before our Western Regional Meeting. Many economists are predicting a mild recession starting later this year or next year;

The federal deficit grew from 3.5 percent of GDP in 2017 to 3.9 percent in 2018 and is predicted to grow to 4.9 percent in 2019-2028. Increasing federal debt will be a contributing factor to slower 1.6 percent real GDP growth in 2020-2029;

Seniors age 75+ are four times more likely to hold home-secured debt than they were 20 to 30 years ago. The value of this debt is also more than double it was (in real terms);

As seniors age, their average expenditures decrease more slowly than their net income. Older Americans, on average, thus need to tap savings (or other resources);

The biggest expense category for seniors is housing. This is especially acute for the oldest households as more of them rent;

Uncertainty in spending also remains throughout the retirement years—for example, for some people, end-of-life health care spending can be very high; and

Creating a budget for older Americans can thus be tricky. It is important to get details on all expenses. For example, while over 40 percent of seniors give inter-generational transfers to younger family members, this expense category is sometimes overlooked. Putting together a comprehensive picture can help us serve the senior population better.
26 Percent of Loans Flagged for Second Appraisal
The overall frequency of requiring second appraisals in HECM transactions jumped five percentage points to 26 percent from October 2018 to February 2019, according to data collected by the HUD Issues Committee that was shared with conference attendees. Other highlights:
56 percent of the cases that required a second appraisal had a lower value for the second valuation;

On average, the second appraisals were 2.6 percent lower than the first appraisals;
10 percent of the loans had a second valuation that came in more than 10 percent higher than the first;

5 percent of the loans the second valuation was equal to the first valuation;

The biggest states (with respect to the number of cases)

CA 18 percent (722)

FL 29 percent (529)

TX 26 percent (515)

The states with the highest proportion of loans requiring a second appraisal:

KY (55 percent)

KS (55 percent)

LA (44 percent)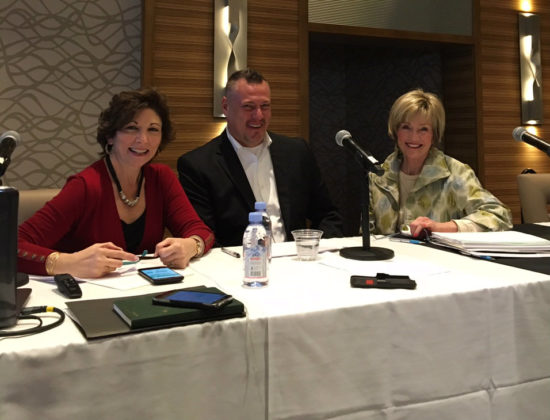 From left to right, servicing experts Gail Balettie of Celink, Michael Kressin of Nationstar and Leslie Flynne of Reverse Mortgage Solutions shared advice on paying hazard insurance claims, non-borrowing spouses, assignments and repayment plans.