HMBS November 2019 Part II: HMBS Float in Equilibrium at $54 Billion
Outstanding HMBS fell by $33 million in November, as lower payoffs were balanced by a strong issuance month. Payoffs totaled just under $928 million, the lowest amount in 9 months. Total outstanding HMBS fell to about $53.9 billion, a three-year low, but scarcely different from last month's total. This is only the second month HMBS float has been less than $54 billion since May 2016.
After months of decline, the direction of total HMBS float is now hard to predict, given further trends. HMBS issuance in the first half of 2019 was the lowest half of issuance in five years. With one month to go, HMBS issuance figures to post the lowest annual total in five years. However, low interest rates and now a higher lending limit have boosted production significantly, while Mandatory Buyouts continue to fall. This month, the float appears to be in equilibrium, but can that last?
We predicted continuing declines in Mandatory Buyouts and November was a case in point with buyouts at their lowest level in over 3 years. "Peak Buyout" was an echo of the peak issuance from 2009 through the first half of 2013. Much of this production has already been repurchased by issuers or repaid by borrowers. From now on, billion-dollar-plus payoff months will be the exception rather than the rule. Many HECM loans continue to reach their buyout threshold, equal to 98% of their Maximum Claim Amount ("MCA"), but Peak Buyout is over.
Our friends at Recursion broke down the prepayment numbers further: the 98% MCA mandatory purchases totaled $517 million, or 56% of the total. This continues a gradual downward trend from the buyout peak in the third quarter of 2018, which averaged over $750 million in Mandatory Purchases per month.
November 2019: Issuers Give Thanks for Abundant HMBS Harvest
HMBS issuance totaled $732 million in November 2019, as lower rates continued to strengthen new production. 89 pools were issued in November, including about $506 million of new unseasoned HECM first participation pools, easily the highest monthly total for new production this year, and the fourth straight monthly increase. For comparison, HMBS issuers sold 84 pools totaling $522 million in November 2018.
Reverse mortgage lenders weathered a long period of reduced new origination volume, primarily due to the new lower PLFs for Home Equity Conversion Mortgages ("HECMs") in effect since the beginning of FY2018. Yet, with this month's issuance, the HMBS market is on track to total about $8 billion for calendar year 2019. HMBS issuance totaled $9.6 billion in 2018, and $10.5 billion in 2017.
November's production of original new loan pools was about $506 million, compared to $426 million in October, $393 million in September, $390 million in August, $321 million in July, $331 million in June, $325 million in May, $300 million in April, $277 million in March, $274 in February, and $304 million in January. Last month's tail pool issuances totaled $225 million, within the range of recent tail issuance. As predicted last quarter, we are seeing the benefit of lower interest rates helping new origination volume.
November 2019 issuance divided into 35 First-Participation or Original pools and 54 tail pools. Original pools are those HMBS pools backed by first participations in previously uncertificated HECM loans. Tail HMBS issuances are HMBS pools consisting of subsequent participations. Tails are not from new loans, but they do represent new amounts lent. Tail HMBS issuance can generate profits for years, helping HMBS issuers during challenging times.
HECM Endorsement Analytics – October 2019
HUD's October 2019 HECM Endorsement Summary Report shows a total of 3,296 endorsements; it is a 36% increase from September's 2,420 endorsements. Our summary can be found here: NV Endorsement 2019_10. Other than in February 2019, when the market recovered from the year-end slowdown and reached over 4,000 endorsements, October's endorsement count is the strongest since May 2018. Part of the increase in volume can be attributed to lower interest rates. Now that interest rate declines have stalled, it remains to be seen if higher endorsement volume will continue.
Based on annual endorsement count, the ranking of the top 15 originators changed only slightly. Most notably, Open Mortgage had 108 endorsements in October. It is the first time Open Mortgage has exceeded 100 endorsements since 2018Q1.
HUD released its September and October Endorsement Snapshot Reports simultaneously. The reports show that Finance of America Reverse sponsored 288 and 273 loans originated by another lender in September and October, respectively, maintaining its lead in this category. American Advisors Group sponsored 200 such loans in October. That's the highest number American Advisors Group has produced since February 2018. Fairway sold 99 and 103 loans to another sponsor in September and October, still by far the most active seller of HECM closed loans.
HUD's Snapshot Report breaks down endorsements by type. From 2016 to the beginning of 2018, between 10% and 20% of HECM endorsements were for refinance. From March 2018 until August 2019, that percentage dropped to approximately 5% per month. However, during the last two months, HECM Refinance endorsement count has crept back to more than 10% of total endorsement volume.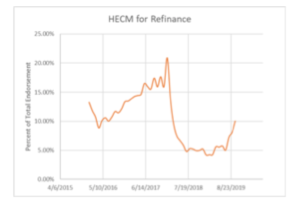 New View Advisors released its October update of the Who Buys What From Whom (WBWFW) report. As a reminder, the WBWFW report compiles publicly available Ginnie Mae data to show which HMBS issuers buy HECMs from which lenders. One of the reports displays loans sales by month, by top 100 lender, by HMBS issuer. The October update shows that over the past 12 months, 63% of total origination/securitization volume was sold from originators to HMBS Issuers. Only 37% was originated and securitized by the same company. Of those loans that exchanged hands, 70% were sold by the top 100 sellers, and 20% were sold by the top 2 sellers. The total trade volume from the Top 100 list took a dip in September, with $98 million HECMs originated, sold, and securitized, the lowest total in the last 12 months. August was the high water mark, with over $178 million HECMs originated, sold, and securitized.
(Editor's note: The following articles were republished with permission from New View Advisors.)