NRMLA 2015: The Year in Review
By Jenny Werwa, Director of Public Relations

According to the Chinese Zodiac, 2015 WAS the Year of The Sheep, which means that those born into the world during the rural calendar year share the qualities of a soft, cuddly animal more likely to follow the crowd than to take the lead. Fortunately for the reverse mortgage industry, NRMLA was formed in 1997, the year of The Ox, the confident bovine respected for its tenacity, strength, and assertiveness.
Throughout the Year of The Sheep, NRMLA, the Ox, pushed forward on all fronts to optimize the reverse mortgage market for industry professionals and for borrowers. In some cases that meant submitting formal comments to our regulators at HUD and CFPB regarding proposed rules, in others it meant publishing member alerts, leading webinars and educational opportunities, launching a new member website, engaging academics to consider new research on loan outcomes, or meeting with journalists to dispel myths about the product.
With every activity, NRMLA leaders focused on eliminating obstacles that ultimately make it harder for seniors to take advantage of the only financial product that enables them to tap into their home equity without making a monthly payment for as long as they live in their home.
Here's a visual breakdown of NRMLA's achievements in 2015: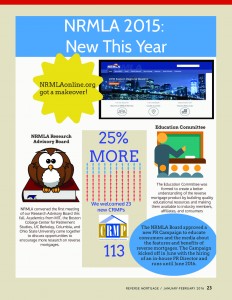 (Editor's note: This article was published in the January-February 2016 issue of Reverse Mortgage magazine.)