Housing Wealth for Homeowners 62+ Reaches $6.8 Trillion in Q1 2018
WASHINGTON (June 20, 2018) – Housing wealth for homeowners 62 and older grew to $6.82 trillion in Q1 2018, an increase of $177 billion in senior home equity over Q4 2017, reports the National Reverse Mortgage Lenders Association today in its quarterly release of the NRMLA/RiskSpan Reverse Mortgage Market Index.
The RMMI rose to 244.73 in Q1, another all-time high since the index was first published in 2000. Driven by an estimated 2.2 percent, or $182 billion, increase in home values, gains in senior housing wealth were offset by a 0.3 percent, or $5.4 billion increase, in senior-held mortgage debt.
"The numbers tell a reassuring story about housing wealth in an era when large numbers of retirees and near-retirees fear running out of money before the end of their lives," said NRMLA Executive Vice President Steve Irwin. "Homeowners 62 and older can responsibly tap some of the home equity they've built over time to stabilize wobbly retirement stools and support their longevity. One way to do that is with a reverse mortgage, which is the only mortgage that was designed for older people who are either no longer working or transitioning out of the full-time workforce, and who want to stay in their own home for as long as possible."
At the recent Housing Wealth in Retirement symposium co-hosted by the Bipartisan Policy Center and the American College of Financial Services, researchers and policy makers discussed how home equity and reverse mortgages, which are underutilized by seniors today, can help provide added retirement funding security to Americans when used appropriately.
Shai Akabas, director of economic policy at the Bipartisan Policy Center, said, "Until now, whether due to complexity or other reasons, many policymakers and experts have overlooked this opportunity. With the country's significant retirement security challenge, we can no longer afford to leave housing wealth on the sidelines."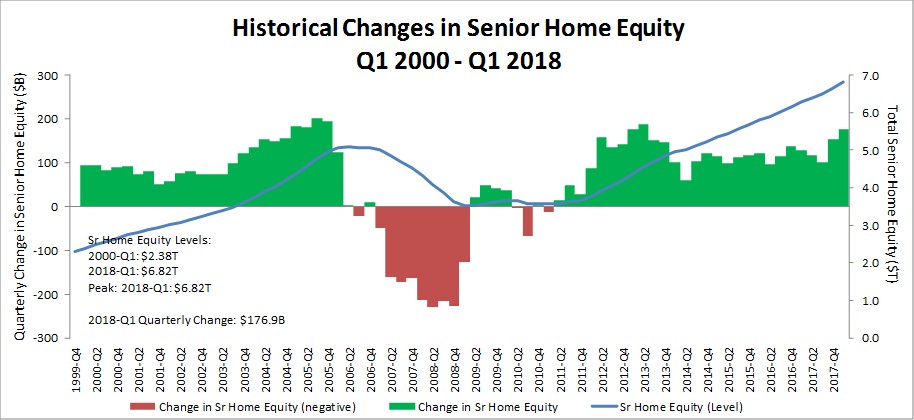 Prepared by RiskSpan, Inc.
Data sources: American Community Survey, Census, FHFA, Federal Reserve

Prepared by RiskSpan, Inc.
Data sources: American Community Survey, Census, FHFA, Federal Reserve
Download RiskSpan Inc.'s full data and analysis
About the National Reverse Mortgage Lenders Association
The National Reverse Mortgage Lenders Association (NRMLA) is the national voice for the industry and represents the lenders, loan servicers, and housing counseling agencies responsible for more than 90 percent of reverse mortgage transactions in the United States. All NRMLA member companies commit themselves to a Code of Ethics & Professional Responsibility. Learn more at www.nrmlaonline.org. 
About RiskSpan, Inc.
RiskSpan offers end-to-end solutions for data management, risk management analytics, and visualization on a highly secure, fast, and fully scalable platform that has earned the trust of the industry's largest firms. Combining the strength of subject matter experts, quantitative analysts, and technologists, the RiskSpan platform integrates a range of data-sets–including both structured and unstructured–and off-the-shelf analytical tools to provide you with powerful insights and a competitive advantage. Learn more at www.riskspan.com.
###
Media Contact: Jenny Werwa, jwerwa@dworbell.com, 202-939-1783