We want you to have access to every tool needed to be successful in the reverse mortgage business. That's why we strongly encourage you to attend NRMLA's Annual Meeting & Expo, October 28-30, in San Diego. There's no better venue to collaborate with industry peers or meet top subject matter experts from across the reverse mortgage business.

If there's one constant in the reverse mortgage business, it's change. And change impacts everyone, no matter what role you play.

Your future success as a reverse mortgage professional depends on your ability to keep up with these changes and adapt. NRMLA can help with that.

Underwriters, compliance staff, business owners, attorneys, counselors, servicers, processors and loan originators attend NRMLA's Annual Meeting to be part of the industry discussions that matter most to your business. 

When you attend the annual meeting, you'll be given full access to all conference sessions (general sessions and breakouts), admission to the exhibit hall and the opening reception, and all food and beverage activities. More importantly, you'll get to meet people who have been originating reverse mortgages for many years and are often willing to share their thoughts and ideas when you ask them questions.

If you can't attend the meeting yourself, make sure to send a colleague on your behalf! If you are not sending someone from your organization, then you're really missing out on business meetings and educational sessions that can take your business to the next level.

Network with industry leaders. And come together to improve the reverse mortgage experience.

Registration Instructions
If you've never registered for a NRMLA conference, please download and review these registration instructions.

Sponsorship opportunities
Increase your company's footprint in the reverse mortgage business by exhibiting or sponsoring at NRMLA's Annual Meeting & Expo. Put your company in front of a qualified audience of decision makers in the reverse mortgage industry. Download the sponsor materials/exhibitor form.


Booking Your Hotel Room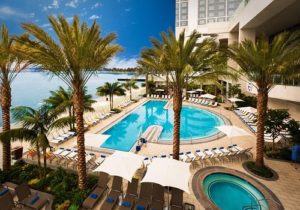 NRMLA has reserved a block of rooms at the special discounted rate of $240 per night. Make a reservation online or call the hotel directly at (619) 564-3333. Please be advised that the deadline to receive the group rate is September 26, 2018. 
Attendees must also register for the conference within two weeks of making a hotel reservation or the reservation will be automatically canceled.
When making your reservation please make sure to mention you are attending the National Reverse Mortgage Lenders Association conference.  If you need assistance making a room reservation, please contact Jeehan Faiz, at JFaiz@dworbell.com.

Cancellation Policy
All conference cancellation requests must be received by faxing to 202-265-4435 or emailing to Darryl Hicks at dhicks@dworbell.com. A $50 cancellation fee will be applied to all cancellation requests received no later than September 15, 2018. A $150 cancellation fee will be applied to all cancellation requests received from September 16 through September 30, 2018. No refunds will be issued for cancellation requests received on or after October 1, 2018.
Paying By Check
If you pay by check, you must submit payment before the current registration deadline passes.
For example, if you register at the Pre-Sale Registration Rate and pay by check, payment must be received by July 31, 2018, or you will be charged the next highest registration rate (Early).
Please mail your check to
NRMLA
Attn: Accounting
1400 16th St., NW
Suite 420
Washington, DC 20036