UPDATE: Accessing Slides and Audio Recordings
Access to presentation slides and audio recordings is restricted to members only. To download this information, login to NRMLAonline.org with your personal username and password. Once you are logged in, scroll to the top of the conference page and look for the Documents tab located to the right of the Registration Fees tab.
Registration Instructions
If you are not familiar with how to register for a NRMLA conference, please download the registration instructions. 

Book your hotel room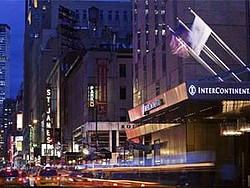 Our hotel room block at the InterContental has expired. It may still be possible to reserve a room, though the rate may be higher. Call the hotel directly at 212-803-4500 for more information, or if you need assistance, email Sarah Aaronson at sarah@irmevents.com.

Sponsorship opportunities
Increase your company's footprint in the reverse mortgage business by exhibiting or sponsoring at NRMLA's Eastern Regional Meeting. Put your company in front of a qualified audience of decision makers in the reverse mortgage industry. Download the sponsor materials/exhibitor brochure.


Paying By Check
If you pay by check, you must submit payment before the current registration deadline passes.
For example, if you register at the Early Registration Rate and pay by check, payment must be received by April 16 or you will be charged the next highest registration rate (Regular).
Please mail your check to
NRMLA
Attn: Accounting
1400 16th St., NW
Suite 420
Washington, DC 20036

Cancellation Policy
All conference cancellation requests must be received by faxing to 202-265-4435 or emailing to Darryl Hicks at dhicks@dworbell.com. A $50 cancellation fee will be applied to all cancellation requests received no later than April 23, 2018. A $150 cancellation fee will be applied to all cancellation requests received from April 24, 2018 through April 30, 2018. No refunds will be issued for cancellation requests received on or after May 1, 2018.