NRMLA's 2018 Eastern Regional Meeting, The Business of Reverse: From Markets to Marketing features an exciting lineup of subject matter experts that includes:
Mike McCully of New View Advisors; David Peskin of Reverse Mortgage Funding LLC; Reza Jahangiri of American Advisors Group; Chris Mayer of Longbridge Financial; and Jonathan Scarpati of Finance of America Reverse, who will discuss proprietary product innovations and opportunities;
Jim Milano, an attorney with the Washington, DC firm of Wiener Brodsky Kider PC and co-general counsel for NRMLA, and Shelley Giordano, founder of the Funding Longevity Task Force, who will discuss working with professionals outside of the reverse mortgage industry;·
Joe Kelly of New View Advisors; John Kozak of Ginnie Mae; Michelle Williamson of Nomura Securities; and Vanessa Warren of Brean Capital, who will discuss HMBS securities and secondary market trends;
Veteran loan originators Mike Gruley, CRMP, of 1st Nations Reverse Mortgage; Randy Davis, CRMP, of Dollar Bank; Chris Downey of Harbor Mortgage Solutions; John Luddy of Norcom Mortgage; and Ellen Skaggs, CRMP, of New American Funding, who will share their experiences selling reverse mortgages in today's market, and engage audience members to talk about their experiences as well, so that a free-flowing sales discussion takes place.
Licensed social worker Kelli Vasquez, who serves as executive director and chief population health officer with Square Care MSO, LLC, who will explain federal and private sector resources that help support aging in place and paying for caregiving;
Attorney Robert M. Freedman of Schiff Hardin LLP, who will present on legal planning for aging in place; 
Craig Barnes, CRMP, of Reverse Mortgage Funding LLC, who will talk about selling HECM as a solution; 
Leslie Flynne of Reverse Mortgage Solutions and Ryan LaRose of Celink, who will provide helpful guidance on repair issues;
Representatives from the CFPB's Ombudsman's Office; and more. 
Registration Instructions
If you are not familiar with how to register for a NRMLA conference, please download the registration instructions. 

Book your hotel room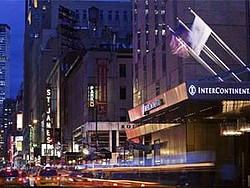 Our hotel room block at the InterContental has expired. It may still be possible to reserve a room, though the rate may be higher. Call the hotel directly at 212-803-4500 for more information, or if you need assistance, email Sarah Aaronson at sarah@irmevents.com.

Sponsorship opportunities
Increase your company's footprint in the reverse mortgage business by exhibiting or sponsoring at NRMLA's Eastern Regional Meeting. Put your company in front of a qualified audience of decision makers in the reverse mortgage industry. Download the sponsor materials/exhibitor brochure.


Paying By Check
If you pay by check, you must submit payment before the current registration deadline passes.
For example, if you register at the Early Registration Rate and pay by check, payment must be received by April 16 or you will be charged the next highest registration rate (Regular).
Please mail your check to
NRMLA
Attn: Accounting
1400 16th St., NW
Suite 420
Washington, DC 20036

Cancellation Policy
All conference cancellation requests must be received by faxing to 202-265-4435 or emailing to Darryl Hicks at dhicks@dworbell.com. A $50 cancellation fee will be applied to all cancellation requests received no later than April 23, 2018. A $150 cancellation fee will be applied to all cancellation requests received from April 24, 2018 through April 30, 2018. No refunds will be issued for cancellation requests received on or after May 1, 2018.