NRMLA's Western Regional Meeting provides a valuable forum for mortgage professionals who operate in California, Arizona and other nearby states to learn from the reverse mortgage industry's top subject matter experts about timely and important issues and trends that are impacting the reverse mortgage business. 
In addition to the learning opportunities, you can earn continuing education credits toward the Certified Reverse Mortgage Professional designation, make new friends and network with industry leaders and vendors. 

Registration Instructions
If you are not familiar with how to register for a NRMLA conference, please download the registration instructions from one of our past events.

Book a Hotel Room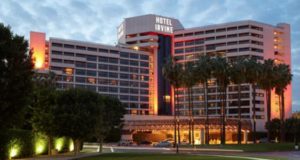 NRMLA has reserved a block of rooms at the special discounted rate of $169/night.
You can book a room online or by calling the hotel directly at 877-614-2137. Mention you'll be attending the National Reverse Mortgage Lenders Association Meeting on July 30. The deadline to get the special room rate is July 8, 2020.
For assistance, contact Sarah Aaronson at sarah@irmevents.com. If you need to cancel your room, please do so at least 72 hours prior to your arrival date to receive a full refund.

Sponsorship Opportunities
Increase your company's footprint in the reverse mortgage business by exhibiting or sponsoring at NRMLA's Southeast Regional Meeting. Put your company in front of a qualified audience of decision makers in the reverse mortgage industry.
Natalie Matter Bellis, Account Executive
The YGS Group
717-580-8184
natalie.matterbellis@theygsgroup.com

Paying By Check
You may pay by check, but payment must be received before the current registration deadline passes.
For example, if you register at the Early Registration Rate and pay by check, payment must be received by May 15, 2020 or you will be charged the next highest registration rate (Regular).

Cancellation Policy
All conference cancellation requests must be received by faxing to 202-265-4435 or emailing to Darryl Hicks at dhicks@dworbell.com. A $50 cancellation fee will be applied to all cancellation requests received no later than June 26, 2020. A $150 cancellation fee will be applied to all cancellation requests received from June 26, 2020 through July 9, 2019. No refunds will be issued for cancellation requests received on or after July 10, 2020.

Questions?
If you have questions or need assistance with anything, please contact Darryl Hicks at dhicks@dworbell.com or at 202-939-1784.