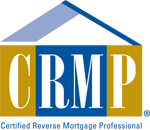 Welcome to the Certified Reverse Mortgage Professional (CRMP) web page.
One of our goals as an industry trade association is telling consumers with confidence, you can depend on a NRMLA member. Saying it is one thing; proving it is another. That is why NRMLA created the Certified Reverse Mortgage Professional (CRMP) designation.
In every industry, there are individuals who strive to excel. They often do so by earning a credential that distinguishes them as being among the most knowledgeable, the most competent and the most ethical and professional.
They make a considerable investment in both time and personal income because they believe in themselves, they believe in the customers they serve, and they believe in the service or product they offer.
They want to distinguish themselves from the pack.
If you are interested in learning more, please consult the various documents provided on this page. Additional questions can be emailed to Darryl Hicks, Vice President of Communications at NRMLA, at dhicks@dworbell.com.
There is no study guide for taking the CRMP exam. If you hope to pass the exam, you must possess a thorough knowledge of the laws and regulations that govern the HECM program. Below are links to various helpful Handbooks and Mortgagee Letters.