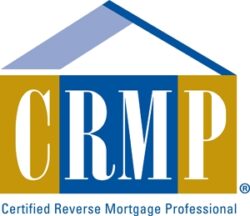 Welcome to the Certified Reverse Mortgage Professional (CRMP) web page.
One of our goals as an industry trade association is telling consumers with confidence, you can depend on a NRMLA member. Saying it is one thing; proving it is another. That is why NRMLA created the Certified Reverse Mortgage Professional (CRMP) designation.
In every industry, there are individuals who strive to excel. They often do so by earning a credential that distinguishes them as being among the most knowledgeable, the most competent and the most ethical and professional.
They make a considerable investment in both time and personal income because they believe in themselves, they believe in the customers they serve, and they believe in the service or product they offer.
They want to distinguish themselves from the pack.
If you are interested in learning more, please consult the various documents provided on this page. Additional questions can be emailed to Darryl Hicks, Vice President of Communications at NRMLA, at dhicks@dworbell.com.
Download CRMP Candidate Handbook

. Describes eligibility requirements, earning continuing education credits, annual recertification and exam preparation. (UPDATED JULY 2021)
Frequently Asked Questions. This brochure offers helpful advice to CRMP candidates on how to get started in their pursuit of the CRMP designation.

Code of Ethics

. 

All CRMPs must follow a Code of Ethics established by the Independent Certification Committee. Serious violations may result in the revocation of a designee's CRMP status.

Exam Blueprint. The exam blueprint shows the areas covered in the examination and percentage of questions pertaining to those areas. 


Online Courses Approved for CRMP Credits

. The following online courses have been approved for CRMP credits. You may submit these courses on the exam application, or for recertification.
Preparing for the CRMP Examination. This document provides helpful guidance on how to prepare for the examination.

Recertification Handbook

. Describes the requirements for maintaining the designation once you earn it.

Roster of CRMPs.

The following individuals have earned the designation and are listed on NRMLA's consumer site, ReverseMortgage.org.

Track Your CE Credits. Use this tracking sheet to document courses you take through out the year.
Educational Videos
NRMLA has developed training videos for CRMPs and CRMP candidates. The list will grow over time, so be sure to come back every couple weeks.