Reverse Mortgage Magazine, May-June 2019 Issue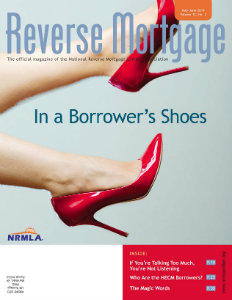 In the May-June issue of Reverse Mortgage magazine, we attempt to look at ourselves and our process through the lens of our borrowers.
In two of our recurring features, we search for the magic words that make deals happen. In this month's Borrower Chronicles, Jessica Hoefer speaks with consumers about the moments in which they made the leap in their minds from curious investigator to committed borrower. And in our CRMP: Across the Kitchen Table feature, staff writer Mark Olshaker talks with loan originators about observing their clients during that critical moment.
Craig Barnes of Reverse Mortgage Funding, who has spent years training loan originators and is a frequent presenter at NRMLA conferences, shares both research and experience of lender/borrower conversations that provide evidence that less talk can bring you more closings. Whatever your level of experience, we hope this issue provides you with some fresh insight into the perceptions of the people you serve. 

Become a Certified Reverse Mortgage Professional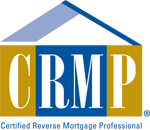 One of our goals as an industry trade association is telling consumers with confidence, you can depend on a NRMLA member. Saying it is one thing; proving it is another. That is why NRMLA created the Certified Reverse Mortgage Professional (CRMP) designation.
In every industry, there are those individuals who strive to excel. They often do so by earning a credential that distinguishes them as being among the most knowledgeable, the most competent and the most ethical and professional.