Reverse Mortgage Magazine, July-August 2016
Reverse Mortgage magazine is the official publication of the National Reverse Mortgage Lenders Association.
Among the top stories in the July-August issue are Reverse Mortgage Mumbo Jumbo: Do We Communicate in a Language that Customers Understand?; Special Section: The Value of Vendors; and My Job Just Got Harder: The New World of HECM Underwriting.
Reverse Mortgage Magazine's Reverse Mortgage Terminology Survey
In this month's issue, RM Magazine Editor Marty Bell asks, "Are we using the best terminology to communicate with our customers? Or does our jargon make reverse mortgages more confusing to the public?" Bell developed a survey that compiles commonly used industry terms and some suggested changes. Complete the survey and send RM Magazine your own ideas that will be shared in a future issue of the magazine.
Become a Certified Reverse Mortgage Professional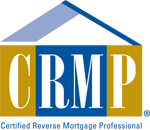 One of our goals as an industry trade association is telling consumers with confidence, you can depend on a NRMLA member. Saying it is one thing; proving it is another. That is why NRMLA created the Certified Reverse Mortgage Professional (CRMP) designation.
In every industry, there are those individuals who strive to excel. They often do so by earning a credential that distinguishes them as being among the most knowledgeable, the most competent and the most ethical and professional.