Reverse Mortgage Magazine, January-February 2019 Issue
Historically, the reverse mortgage industry has been primarily based on a single, government-backed product, the Home Equity Conversion Mortgage. Yet as HUD's ground rules for HECMs keep changing and with new policies every time there is a change in presidential leadership, the question inevitably arises: Can the reverse mortgage industry survive in its traditional mode?
For our cover story, staff writer Mark Olshaker interviewed company executives to find out the direction they are heading and future possibilities, in addition to brainstorming with other key industry figures on ideas for expanding each member's market.
Become a Certified Reverse Mortgage Professional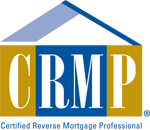 One of our goals as an industry trade association is telling consumers with confidence, you can depend on a NRMLA member. Saying it is one thing; proving it is another. That is why NRMLA created the Certified Reverse Mortgage Professional (CRMP) designation.
In every industry, there are those individuals who strive to excel. They often do so by earning a credential that distinguishes them as being among the most knowledgeable, the most competent and the most ethical and professional.