Reverse Mortgage Magazine, March-April 2018 Issue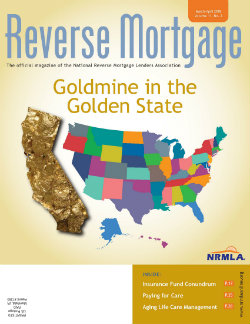 Our cover story for this month's issue of Reverse Mortgage magazine examines the reverse mortgage market in California. While it has the largest population of any state, the next three largest states – Texas, Florida and New York – have a combined population that is almost twice that of California. And yet, California has more reverse mortgages than those three states combined. It takes a lot more than just population to explain this. So we went out to search for other reasons, thinking at least some of the answers might be replicable and thereby help the industry build up other markets.
The magazine issue also features an analysis of FHA's Mutual Mortgage Insurance Fund written by staff writer Mark Olshaker. On the one hand, the MMI provides borrowers with valuable protection and creates a level of trust in the market. On the other hand, the statutory requirement that it be net neutral in each fiscal year's book of business has led to frequent adjustments to the HECM program that rattle businesses and create consumer confusion. Olshaker reports on these issues as well as on how HECMs ended up in this fund and what the new options may be.
Become a Certified Reverse Mortgage Professional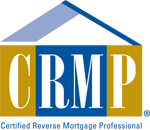 One of our goals as an industry trade association is telling consumers with confidence, you can depend on a NRMLA member. Saying it is one thing; proving it is another. That is why NRMLA created the Certified Reverse Mortgage Professional (CRMP) designation.
In every industry, there are those individuals who strive to excel. They often do so by earning a credential that distinguishes them as being among the most knowledgeable, the most competent and the most ethical and professional.