Reverse Mortgage Magazine, November/December 2019 Issue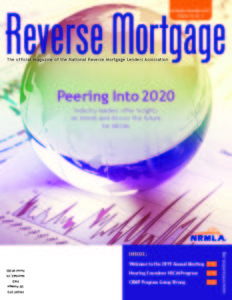 In this issue, we peer into 2020 and ask industry leaders to give us their thoughts on potential issues and trends to watch our for. We also take a closer look at the September 25th hearing before the House Subcommittee on Housing, Community Development and Insurance that examined perceived problems with the HECM program, while including statements of encouragement of why HECMs remain a vital planning tool for millions of Americans from Peter Bell, president and CEO of NRMLA, who was among the witnesses. Bell notes that the hearing should be a call to action for loan officers to educate their local legislators about the program.
Become a Certified Reverse Mortgage Professional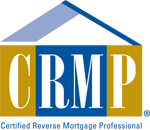 One of our goals as an industry trade association is telling consumers with confidence, you can depend on a NRMLA member. Saying it is one thing; proving it is another. That is why NRMLA created the Certified Reverse Mortgage Professional (CRMP) designation.
In every industry, there are those individuals who strive to excel. They often do so by earning a credential that distinguishes them as being among the most knowledgeable, the most competent and the most ethical and professional.