Reverse Mortgage Magazine, July-August 2019 Issue
Today, more than 30 million families own condominiums. In many of the major metropolitan areas, it is the dominant housing option. While it can be difficult, if not impossible, to get a HECM on a condo if the property isn't already FHA approved, the burgeoning market for proprietary reverse mortgages creates new opportunities.
Reverse mortgages, whether HECM or proprietary, represents a fraction of the equity release marketplace which staff writer Mark Olshaker explores in his article, "Equity Release Alternatives: Are they competition for reverse mortgages or complementary?" And finally, attorney Sandy Shatz of McGlinchey Stafford, provides valuable guidance for members on complying with California's Consumer Privacy Act – the most comprehensive consumer privacy law ever enacted at the state level – which takes effect on January 1, 2020.
Become a Certified Reverse Mortgage Professional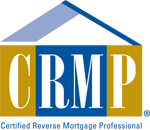 One of our goals as an industry trade association is telling consumers with confidence, you can depend on a NRMLA member. Saying it is one thing; proving it is another. That is why NRMLA created the Certified Reverse Mortgage Professional (CRMP) designation.
In every industry, there are those individuals who strive to excel. They often do so by earning a credential that distinguishes them as being among the most knowledgeable, the most competent and the most ethical and professional.