Reverse Mortgage Magazine, March-April 2017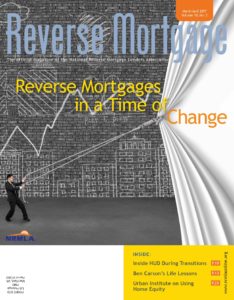 The award-winning Reverse Mortgage magazine is the official publication of the National Reverse Mortgage Lenders Association.
In this issue, we attempt to shed just a little bit of light on how the governmental transition may impact our industry.
As part of our cover story, Marty Bell studied the life of the new HUD Secretary, Dr. Ben Carson, and how the experiences and philosophies that made him a hero in other fields may cross over into housing policy. And NRMLA's outside counsel Jim Milano provided a snapshot of the new HECM final rule by breaking down what the rule does and does not cover, and what the future looks like.
Become a Certified Reverse Mortgage Professional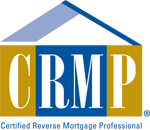 One of our goals as an industry trade association is telling consumers with confidence, you can depend on a NRMLA member. Saying it is one thing; proving it is another. That is why NRMLA created the Certified Reverse Mortgage Professional (CRMP) designation.
In every industry, there are those individuals who strive to excel. They often do so by earning a credential that distinguishes them as being among the most knowledgeable, the most competent and the most ethical and professional.