Register Today for NRMLA's 2020 Virtual Summer Conference, July 14-15
We may be living and working in a world where social distancing remains in effect, but that's not going to stop us from convening as an industry to stay engaged with each other.
Join your colleagues from around the reverse mortgage industry as NRMLA hosts our first-ever Virtual Summer Conference on July 14-15, 2020.
All sessions will take place during Eastern Daylight Savings Time.
Download our digital conference book to view the full agenda. 
Use this opportunity to virtually network with friends and colleagues in the Reverse Mortgage Industry. This will also be a great time to sharpen your sales skills and to stay abreast of the current important issues and trends within the industry.
NRMLA's Summer Virtual Conference is free for all members and $150 for non-members. 
Hear from HUD's Home Ownership Center Directors, marketing experts, NRMLA's outside legal counsel, NRMLA's Executive Committee and many more.
Next Steps:
To register, click the orange box on the right of your screen labeled Register Now
When prompted, type your username and password
If you don't know your username and password, email Darryl Hicks at dhicks@dworbell.com.
Once you're logged in, proceed through the registration process and submit payment on the final page.
Sponsorship Opportunities: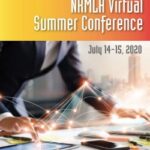 Increase your company's footprint in the reverse mortgage business by sponsoring NRMLA's Virtual Summer Conference. Put your company in front of a qualified audience of decision makers in the reverse mortgage industry.
Download the sponsor brochure or contact