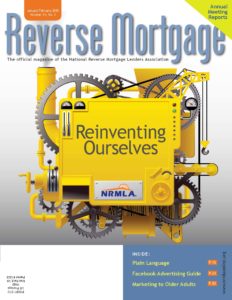 The January-February issue of NRMLA's awarding-winning Reverse Mortgage magazine, appropriately the first of a new year, is devoted to some of the best ideas, approaches and strategies presented at the 2017 Annual Meeting & Expo in San Francisco.
"Obstacles and setbacks are not holding us back," wrote Editor Marty Bell in his introduction. "They are pushing us forward. They are inspiring creative thinking. You can't sell a product that used to exist. You have to sell what now exists."
Contributing writer Mike McCully of New View Advisors explains how the latest regulatory changes will improve the product and encourage investors, staff writer Mark Olshaker summarizes views expressed by NRMLA's executive leadership for building future success, Bell writes about attorney Barry Sacks' latest research on an active retirement funding strategy that utilizes home equity to reduce the risk of portfolio exhaustion, and Associate Editor Darryl Hicks interviews Barbara Kingsley on the art of communicating complex financial concepts in plain language.