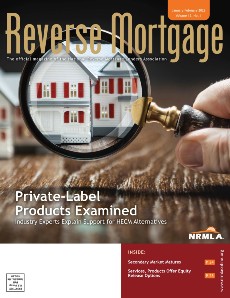 The January-February issue of Reverse Mortgage magazine explores the expanding market for private-label reverse mortgages.
The creators of private-label reverse mortgages continue to tweak their products as consumers divulge changing needs. This year, more innovations can be expected, as contributing writer Joel Berg outlines in his cover story.
We also explore the maturation of the secondary market for reverse mortgages – both HECM and private-label products – and the growth in other equity extraction programs that could benefit clients who can't qualify for a reverse mortgage.