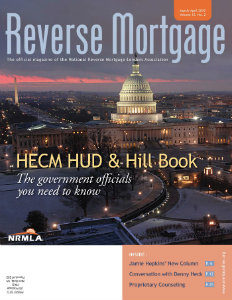 In our HECM HUD & Hill Book, beginning on page 15, staff writer Mark Olshaker provides you with thumbnail sketches of, and quotes from, the key influencers and decision-makers for the reverse mortgage industry in Congress, at HUD, at OMB and at the CFPB.
Darryl Hicks' Talking Heads conversation this month is with Congressman Denny Heck, who represents Washington State's 10th Congressional District and sits on the Financial Services Committee.
We're also pleased that retirement expert Jamie Hopkins, who recently joined Carson Wealth Management after teaching at the American College of Financial Planning, has joined our editorial team. In his first "Retirement Prep" column, Hopkins presents his take on long-term care planning.