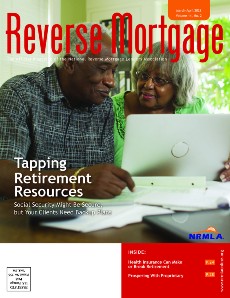 What is the current retirement situation in the United States? How has COVID-19 affected the landscape? How can the strategic use of home equity factor into long-term plans?
To get answers to these important questions, NRMLA's editorial team interviewed two of America's top retirement experts, Alicia Munnell, director of the Center for Retirement Research at Boston College and Steve Vernon, director of the Center for Longevity at Stanford, for the March-April issue of Reverse Mortgage magazine.
Munnell offered solutions for improving Social Security, while Vernon shared advice on how seniors can plan better for a 25- to 30-year retirement.
In a separate interview, Stephanie Moulton of Ohio State University, who has published the most research on research mortgages, talked about why reverse mortgages are such an important topic for her and she discussed the findings from her most recent paper on the impact of FHA's policy changes on the financial stability of the HECM program.