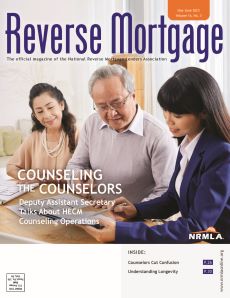 Reverse mortgage counseling and the people who provide this critical service take center stage in the May-June issue of Reverse Mortgage magazine as we feature interviews with David Berenbaum, HUD Deputy Assistant Secretary for the Office of Housing Counseling, and representatives from several major counseling agencies.
Jennifer Cosentini, housing director at Cambridge Credit Counseling Corp., outlines how the job of a counselor involves much more than relaying facts. "Good housing counselors are actually educators," Cosentini says in her Board Room column. "They are empathetic and compassionate, and they have a need or desire to help others."
Rather than present the counseling process as a hurdle to getting a loan, she suggests, industry professionals should tout counseling as a worthy service that is a good use of a potential client's time.
DAS Berenbaum has been intent on working with the industry, particularly NRMLA, to fine-tune the counseling process to make it more accessible to borrowers, while further protecting them from potentially detrimental decisions. "There's a lot of opportunity for growth, and I think there's a tremendous opportunity for closer working relationships between the reverse mortgage industry and the housing counseling agencies," he says in the cover story, Counseling the Counselors.