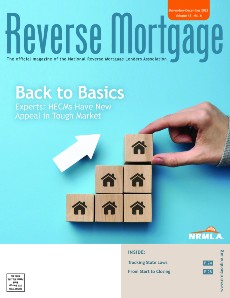 As we publish the last edition of Reverse Mortgage magazine for 2022, we spend some time peering into the New Year. This is something we have done the past few years—looking ahead well before the calendar turns and while recent lessons and trends remain fresh.
The year 2022 has been filled with what most business professionals dread—uncertainty. As you will find in this issue, however, leaders in the reverse mortgage industry aren't paralyzed. They keep moving forward, adapting to change and looking for new opportunities.
Ed Robinson, president and chief operating officer of American Advisors Group, says 2023 is a perfect time for reverse mortgage professionals to go back to their roots with traditional HECMs. "Getting back to our knitting," as Robinson puts it.
Growing the industry has been top of mind for industry leaders for years now, but 2023 will offer opportunities to continue marketing HECM products as seniors and their advisers look for safety nets to get them through the unknown.