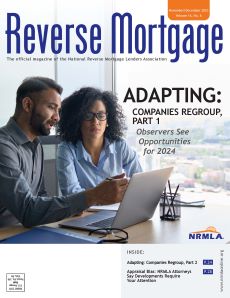 The November-December issue of Reverse Mortgage magazine features a two-part series on how companies are "adapting" to the current environment that explores lessons learned in 2023 and opportunities ahead into 2024.
"While the reverse mortgage market may have been soft in 2023, industry executives remain optimistic about 2024," says writer Joel Berg. "They are drawing hope from an influx of new companies in the space, the continuing well of untapped home equity, and their own efforts to broaden the appeal of the reverse mortgage."
The magazine also examines the issue of appraisal bias. If they haven't already, companies need to develop detailed policies and procedures for handling bias claims, according to NRMLA's outside counsel, Weiner Brodsky Kider.
"Lenders have some responsibility when they know—or should have known—that discriminatory practices may be afoot, even though they generally are supposed to be hands-off with respect to appraisal matters because of appraisal independence requirements," says Jim Brodsky. "They have a legal obligation to intervene."