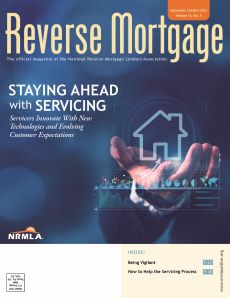 NRMLA has devoted the September-October edition of Reverse Mortgage magazine to a very important yet still misunderstood topic: servicing.
The magazine summarized best practices for loan officers provided by Leslie Flynne, senior vice president of reverse mortgage servicing with Mutual of Omaha Mortgage, at NRMLA's Western Regional Meeting in June. Her first practical tip? Always leave clients with your personal email address and cell phone number because, if a question arises after a loan closes, they are quite likely to reach out to you for clarification.
"You will always be their trusted source of advice," she says.
In the cover story, NRMLA interviewed servicing companies' top officers who monitor trends – including the role of artificial intelligence – to ensure that customers have the best experience possible when working through questions about their loans.