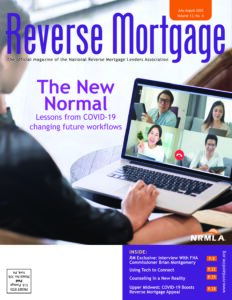 COVID-19 has dramatically altered the way many businesses operate. Reverse Mortgage Magazine interviewed leaders from around the reverse mortgage industry and asked them how they have adapted and determined the best ways to continue serving their customers and how these changing workflows may become the new normal.
For our cover story, Leslie Flynne, SVP of loan servicing for Houston, TX-based Reverse Mortgage Solutions Inc. shared insights about her company's disaster planning guide, which accounted for a pandemic and allowed RMS to act decisively. Lesson learned: If your disaster plan doesn't include a pandemic, add a new chapter.
To begin reading the issue, click on the front cover image.